CHOCOLAGRAMS
A chocolagram is an anagram that reveals the underlying Milk Tray Approach in a brand, variety or characteristic of chocolates.  Taking its name from the British TV ads in which a daredevil James Bond-type risked waterfalls, avalanches and sharks etc to bring his lady a box of chocolates, the Milk Tray Approach is the romanticised but not-so-innocent interpretation of chocolates.
As with all anagrams some meanings take longer to uncover than others, but it is significant that words such as lace, bra and thong are so frequently found. It reflects the extent to which chocolates have embraced the language of seduction; it feeds the notion that chocolates have aphrodisiac properties; and it demonstrates how richly symbolic chocolates are: whereas the ribbons, tissue layers, and little frilly cups of chocolate packaging are symbolic of the pretty lingerie we have to 'undress' to get to the sweetness underneath, the little swirls, waves, and scallops etc. used to differentiate one centre from another are redolent of the decorative edging found on knickers, camisoles and bras.
Examples abound, but these illustrations provide a taster of what chocolagrams reveal: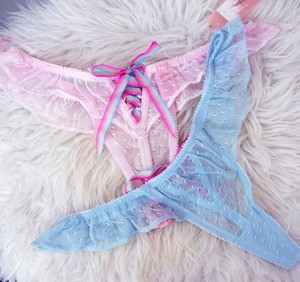 Honeycomb ingots = Boo! My nice thongs
House of Dorchester = ooh, her soft seducer
Gauzy tissue layer or symbol of a pretty bra? What do the chocolagrams say?
Chocolate Almonds = smooth? no, lace-clad
.
Pretty packaging being 'undressed' before we get to the sweetness underneath
.
After Eights = great fetish
.
Black Magic Selection = citing some black lace
.
Nestlé Dairy Box = a sexily torn bed
.
A Chocolate Orange = echo to a carnal ego
. Box of Terry's All Gold = got foxy Loll's red bra
Thorntons Continental = lo! instant horn content
.
CHOCOLAGRAMS – The Secret Language of Chocolates, provides a comprehensive explanation of the subject, with examples taken from all kinds of chocolates past and present, national and international, cheap and expensive, commonplace and exotic. The sheer variety of hidden messages in chocolates is astounding. Indeed, this book should be a prerequisite for anyone thinking of buying chocolates for their loved one. You would like to send the right message wouldn't you?
CHOCOLAGRAMS – The Secret Language of Chocolates is available for immediate delivery from Amazon and Lulu.com.